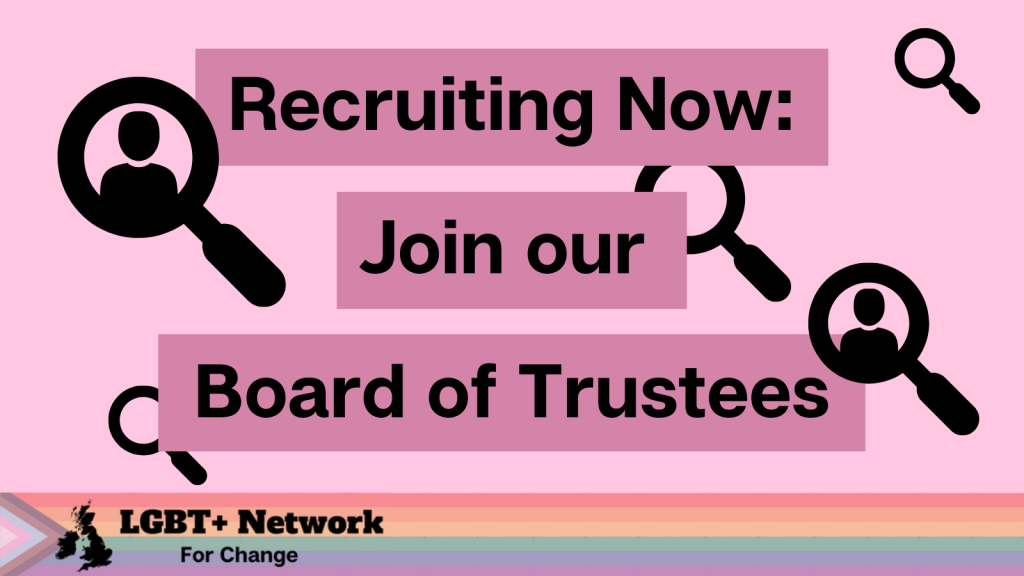 Find out about opportunities for joining the Network as a Trustee, Advisor, Volunteer and how to apply below.
About Us
LGBT+ Network for Change are a small but passionate UK-wide voluntary-sector community organisation and registered charity run by and for LGBT+ and LGBTQ+ community members, working for a Queerphobia-free, inclusive UK, British Isles, world and society!
Our Network was created and exists to support our LGBT+ communities, especially intersectional LGBT+ groups and LGBT+ subgroups who are often overlooked, poorly supported. We aim to tackle more severe forms of prejudice and discrimination of systemic, structured forms, which may be direct and/or indirect.
We help improve LGBT+ engagement by public service providers & businesses by providing relevant, national-level quality education & training provision, including on zero tolerance of Queerphobia and tackling tick-box culture in the workplace. We also have a respected record of influence for change and improvement on LGBT+ performance at national government and parliament, UK parliamentary select committee level, as well as at statutory and public sector organisations levels. For example, we have a proud long-established record, for example, as a catalyst and Change/Reform organisation challenging the UK Home Office on it's perceived, too well-evidenced, Anti-LGBT immigration services 'Hostile Environment.'
We're a newly-restructured vibrant charity, with lots of momentum for to create change. We were previously known as the 'LGB&T Dorset Equality Network', and registered with the Charity Commission in 2016.
By joining our board, you'll be joining a group of enthusiastic trustees to help guide the charity. We will support you through an induction process and provide support in developing skills, whilst assisting with work to embed inclusion into the public sector.
The Role
Being a trustee at LGBT+ Network for Change involves governance and strategic oversight for the charity, as well as having a more operational team leader aspect.
In terms of commitment attendance at 4 annual meetings, including the AGM, and assisting where able on delivery of the latter, is required. These are currently being held online.
We have monthly Network-wide online meetings, which last an hour and a half and it is recommended for all trustees and advisors to attend.
Outside of meetings, the role involves a few hours of supportive time per 3-4 months between meetings, which can vary person to person, and responsiveness to internal communications.
For more information on role requirements and suggested skills, please read our trustee role description here.
In particular we are looking for a treasurer and trustees with knowledge and experience in finance, fundraising, grant applications, social media and marketing.
We greatly value diversity on our board and welcome applications from Queer women, gender diverse people, Queer people of colour and Queer disabled people, from all ages. For us, an ideal board would comprise of a total of 9 trustees, with a balance from regions across the UK.
Contact Us
If you're interested in applying, please complete this form. Successful applicants will be invited to an informal interview.
If you have any questions or want to contact us, please email us at contact.lgbtnetwork@gmail.com. If you don't want to be a trustee but are interested in being an advisor or volunteer, please email us too.
Find out more by visiting our website or twitter.
Please note Trustees (Board Members) undertake their roles in a voluntary capacity and can often act as advisors on given areas of experience, expertise, and interest.
Network Trustee Recruitment Policy: https://lgbtnetwork4change.com/network-trustee-recruitment-policy/
N.B. Company/Charity number: 1171911
Advisors and Volunteers Recruitment:
Please note Advisors undertake their roles in a voluntary capacity – we encourage all volunteers to consider providing advisory services.
Find out more and read the role description here.
Apply to become a volunteer or advisor via this form!
Network's Volunteer and Advisor Recruitment Policy: https://lgbtnetwork4change.com/advisors-recruitment-policy/